Glamorous Accent Walls – update your rooms with wallpaper and paint
Are you sick and tired of your blank and boring walls?
You can't stand the look of just one ordinary picture hanging over your bed anymore?
Everything looks too blunt and you want something more glamorous in your room?
You need a fast update because you can't stand looking at these boring walls for another day?
Well, there are some easy changes you can make in order to create glamorous accent walls in your home.
How to create glamorous accent walls
If your house has an open floor plan and you choose one paint color throughout, you might want to start with adding an accent color to some rooms, for more excitement. Creating a focal point draws attention, give a room more depth and creativity.
How to deal with Open Floor Plans
If you have a view into the kitchen, the dining room and the foyer, the colors you are choosing have to work and flow together.
Go inside every room and decide which walls you can see from the other rooms and then decide which wall makes sense to accentuate. Mainly it would be the wall you see first thing you enter the room.
Accent colors can change from room to room, if you pick them from one color family.
Continuing one consistent color throughout the home can help, if you don't like it too colorful. Or you choose your favorite color and paint each room with a slightly different hue.
If you love colors, use the color wheel or paint chips to decide on your favorite wall paint.
If you need help finding the right paint color, get these easy tips:
In 3 easy steps, I show you how to pick the right paint colors for your home.  Try it, it really helps.
.
.
In this picture you can see the kitchen bar is painted a light teal, the entrance in a green and the open shelves are orange. The rest of the walls are painted white which lets the accent colors shine. And it doesn't look overcrowded by colors, or?
This open floor plan looks colorful, but because only small sections are painted, the colors are not overwhelming. And the background is white.
Another option for changing the look of a living room or a bedroom is by using wallpaper or just using wallpaper accents.
If you don't have a lot of time and you are not a handyman respectively a handywoman, this option is for you:
Here are some easy tips on how to make a room look glamorous:
1. Wallpaper
If you have a whole wall you would like to accentuate but don't want to just paint it, check out wall murals.  You can find some fantastic designs online.
This one I found and ordered at Wall Sticker Warehouse, the ordering was pretty easy and fast. Although it was shipped from England, it took only a week to get to the US.
You can find so many different options online, it is hard to decide which one looks the best. Here are some of my favorites:
This wall art is not dominant, but very elegant and an amazing feature in your living room or hallway. (Walls by Patel)
Source: Walls by Patel
Walls by Patel
And these examples are just amazingly colorful and happy wallpapers, which make a stunning room out of an ordinary room.
Don't you love these designs? I can't even say which one I love the most.

2. Try out Wall Murals
These three wallpaper murals can be ordered on Amazon. Just be sure to measure your wall right and order the correct size to cover the whole wall.
Any of these three different patterns will make an awesome accent if the room doesn't have a lot of highlights or a natural focal point.
Please note this post contains affiliate links, please read my full disclosure here.
3.   Wallpaper accents
I love wallpaper and I love how it can change the feel of a room completely.
I don't use wallpaper in all of my rooms, but I use it very often as an accent in my house.
Here is a picture of my bedroom, I just wallpapered the section behind my headboard, and it already adds so much more flair.
I love to add a little glamour to this room and if I don't like it anymore it can be removed easily.
Wallpaper your closet
Another fast option – if you want to get started with wallpaper – is to cover the inside of a closet.
I removed the doors from the closet and added this beautiful pink wallpaper for some more excitement in my office. It draws away the focus from the messy desk to the pink closet wall. 
The pink accent color makes this room so much more interesting. And putting wallpaper in a closet is a perfect way to practice how to do it.
Especially if you use a wallpaper with a simple pattern. Watch out for the pattern repeat. If the pattern repeat is small, you don't have a lot of wallpaper waste and it is so much easier to apply to the wall.
Use removable wallpaper if you are living in a rental home or you like the option of changing things around.
Please note this post contains affiliate links, please read my full disclosure here.
Shop this look here:
4. Do you like graffiti?
My house is very colorful because I love colors and yes, I also LOVE graffiti.
I was able to use graffiti wallpaper in my dining room because it fits to the color scheme of my house.
Also, some of the colors in the wallpaper can be found in the furniture and the rug.
As you can see, I wallpapered only half of the wall and kept the wood panels at the bottom of the wall white.
Therefore it does not feel overloaded or overwhelming because the room is not very big.
Also, the furniture is simple and straight. With so many different colors and patterns going on on this wall, the rest of the room has to be calm and reduced.
If you have a whole wall you would like to accentuate, use some funky wall art or wallpaper.
Shop this look on Amazon if you love to add some funky colors and graffiti.
How to hang wallpaper easy
If you have never hung wallpaper in your house, start with an easy design pattern. Get all the accessories needed and have someone help you getting the wallpaper straight onto the wall.
The most important things you need to have are:
a level

a step ladder

a pencil

a wallpaper brush or roller
Check out tutorials 'How to hang Wallpaper'. It is actually pretty easy to do.
So many pretty options are available online and in stores just check around what you like
Instead of just painting walls, a dull beige or brown,  rooms look so much prettier with an eye-catching wallpaper. And the right wallpaper fits to almost every kind of furniture.
.
.
5. Stencils on furniture, walls and floor
Stencils or even stickers are a great option if you want to update a wall fast and easy.
Maybe you can't envision how a pattern is going to look on your walls and you want to try it out first.
Stencils are also a great way to update furniture or even make floors look great again.
With a stencil you can make pretty fast updates. Here is how to do it:
Select the area where you want to add the pattern.

Tape the stencil onto the wall, using frog tape.

Use a small roller and little paint and roll over the stencil.

Let the paint dry.

Check if the paint looks good otherwise apply another coat.

Let dry, then remove the stencil carefully.
You can find a huge variety of stencils online, which makes it hard to decide what to order.
Get all the details here if you want to add a stencil on a wall or floor: How to paint stencils on wood
6.  Adding stripes to a wall
Painting stripes takes maybe an hour or two and has such a great effect in a room. And in addition, it is so much faster than painting a whole wall.
I wanted to pimp up my bathroom so I used the colors I had leftover from previous paint jobs and voila, see below how it looks now after painting.
If you have no leftover paints or the paints you have just won't look good in the room, get yourself two, maximum three, small sample colors.
That's enough paint for painting the stripes and is also not very expensive.
Paint stripes on even walls
The stripes in my bathroom are a little blurry due to the wall structure, but I actually don't mind that effect.
If you have a smooth wall and you use good painters tape, sandpaper and a level, the edges will look sharp and straight.
Start easy with a couple of stripes or just one bigger one and then see what else you can do to glamp up your room.
Read my tips on how to paint stripes here: Teen Bedrooms decorating ideas
Before and after photos of the bathroom:
I added this blue accent to cover a not so pretty painting from my son and it gives the bed a frame too. 
.
7. Make Wall Art yourself
This is what I have found on Pinterest,  if you want to start making a room beautiful and need some inspiration and guidance:
Shuly from 'The Wall Whisperer" has a beautiful Homepage and she shows you exactly how to make really great wall art. So check it out if you want to start becoming a wall artist
https://www.thewallwhisperer.com/2018/06/06/circle-ombre-wall-painting/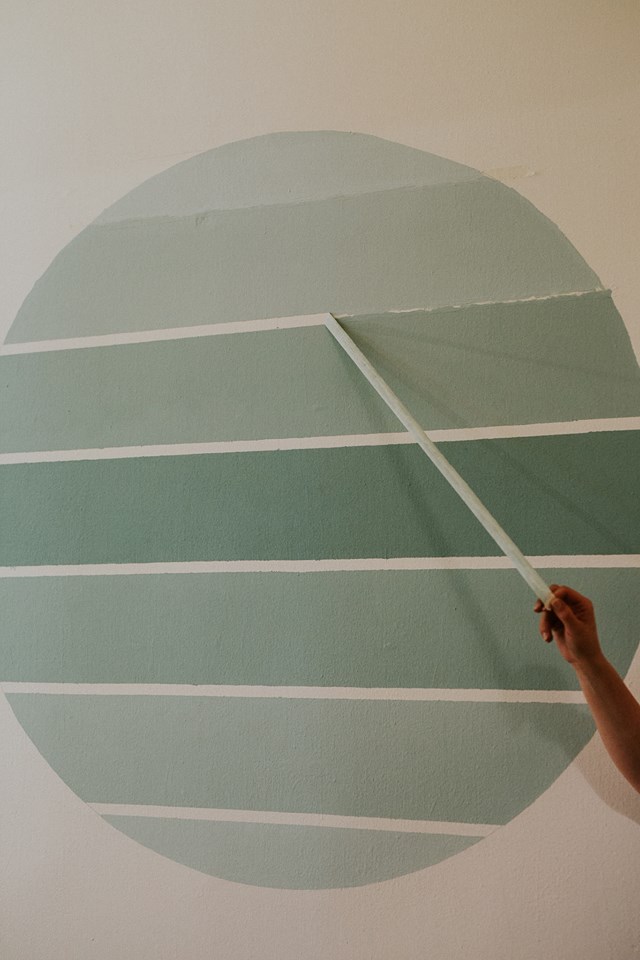 Let's try adding Glamorous Accent Walls in your home
If you want to start easy with some wallpaper accents, here are some great choices.
Add some wallpaper accents in your bedroom, living room or entrance. There is a spot everywhere.
Here are my favorites with a small pattern repeat which means, you don't have a lot of waste and it is easy to wallpaper. Try it.
Make sure you are ordering peel and stick wallpaper, which you can easily take down if you don't like it anymore.
Summary of 'Best tips on how to create glamorous accent walls'
I hope I gave you new inspiration about making glamorous accent walls and creating an eye-catcher or an amazing focal point in your home.
Don't be scared to add wallpaper or a stencil to your wall. It is definitely not expensive, not time-consuming and you can do it all alone. (More fun if you do it with a friend).
Start experiencing a little and I am sure you are going to love it.
If you haven't painted or wallpapered a lot or you are not really sure about it, just start with a closet, a small wall, or painting stripes in a kids room or bathroom.
You will see how cute your rooms look, what an easy transformation if you add some excitement with color.
The more you paint, the better you get and it will become so much easier, deciding on the right colors for your home.
If you have any questions, please let me know in the comments. I love to hear from you,
You can do it,
Conny xoxo
Want to remember this? Pin 'Best tips how to create glamorous accent walls' to your favorite Pinterest board.